Back in the day I could write an entire post JUST ABOUT THE BOOKS of the year. Not happening anymore. But I can write about the WHOLE year in small Top FIVE lists, so I'll do that instead:
Top 5 Real Life Things That Happened. In My Life. Not The Outside World. You Can Go Read About the Outside World Anywhere Else
1.
A tree fell on our house.
This isn't exactly a TOP thing that happened, as in "Best," but it was certainly the BIGGEST thing that happened, and we did end up with all new roof and siding, which insurance covered MOST of, though paying the difference did knock out our budget for the rest of the year. But now that we've gotten that out of the way, let's move onto the actual GOOD stuff:
2.
Seeing FREAKIN' SIR PAUL FREAKIN' MCCARTNEY IN FREAKIN' CONCERT, FINALLY!
Just read the post if you don't understand.
3. I
actually managed to complete an entire draft of an early-chapter-book.
Granted, I haven't managed to get around to REVISING it yet. At all. But it's better than I've done in a long time.
4. I successfully Outreached to loads of small children, who excitedly pointed me out to their parents in public while squealing about the "library lady" and lots of their favorite stories. This is the best kind of famous, you know. If I'm going to be accosted by fans every time I go out in public, I much prefer to be hugged around the knees by a three-year-old than shoved about by paparazzi.
5. My son brought home a couple of guppies from the class fish tank on his last day of first grade. I never expected them to last as long as they did, but now they are officially our first family pets. Actually, one of them died a couple months in, but the other one turned out to be pregnant, and gave birth to eleven more. She ate all but one of these. The survivor got by on her (we think it's another her) speed, so earned the name Zippy. Her mother never actually got a name, so is now Mama Fish. We also have two snails now. One is growing. We think it might turn into a monster and take over the tank.
Top 5 Presents I Got For Christmas

1. A New Dishwasher. Our old dishwasher sprung a major leak that we weren't able to fix, and it never cleaned very well anyway, so our two sets of parents went in together to get us a new one. It's AMAZING. It makes things not only CLEAN, but SHINY! And it does so QUIETLY, and WHILE KEEPING ALL THE WATER INSIDE IT!
2. A Good Set of Kitchen Knives. While we were camping this summer, I went to chop up a potato only to realize I hadn't brought a knife, so J whipped out his hunting knife, and WOW could that thing slice. "It's not because it's a hunting knife," he said, "it's just because you're used to using those crappy knives that won't hold an edge." "Oh," I said. But this exchange inspired him, and he bought a set of GOOD kitchen knives actually made by the same company that made his hunting knife. THEY CUT WITHOUT YOU HAVING TO PUT PRESSURE ON THEM. Which means I really have to watch my aim.
3. A bunch of other kitchen supplies I never would have suspected, back in the day, would one day make me so excited to get. I got a big tub of storage containers, a couple of chopping boards, and a new spoon spatula. Granted, I bought that spoon spatula for myself and just stuck it in my stocking, but it was still exciting.
4.
This scarf.
Appropriate, no? Also a much cheaper leopard-print scarf from Old Navy that EVERYONE got-- okay, at least four people in my extended family-- so now we might start a cult.
5. My sister saved the day and got me
Desolation of Smaug,
because for some reason Jason didn't. Actually he didn't get a single thing off of my wish list. For me. I've had the complete set of
Animaniacs
on there for years, so he did get that, but he gave it to Maddie, our own Dot Warner. That was actually a very appropriate move on his part, though.
Top 5 Presents I Gave Other People For Christmas
1. My daughter wanted an Ariel costume. I looked it up: all the Officially Licensed costumes kind of sucked, so I decided to make one myself (note: sometime in October I also got a new sewing machine on account of my old one kind of breaking beyond repair. I thought of considering THIS a Christmas present, but Jason said, no, you just need a new sewing machine, you can have OTHER presents!) I found THE most PERFECT fabric at Jo-Ann's, so LOOK:
I did not make the wig, though.
2. Also for Maddie: her artistic expression CANNOT be hemmed in by silly things like Personal Property. Not only does she draw in my journals, she's also always absconding with my camera to take pictures and video. Well, among Amazon's Cyber-Monday deals I spotted it: a kids' camera/camcorder. With Hello Kitty on it. For thirty bucks. It was MEANT TO BE.
3. The boy needed pajamas, and I found a pattern for boys' pajamas in his size
among my grandmother-in-law's sewing stuffs,
so I bought some appropriate fabric along with the mermaid fabric. Well, almost appropriate. It's a train print, and trains are still Sam's Favorite Thing Ever, but I didn't know if it was SLIGHTLY babyish for an almost-8-yo? But it was the most insanely soft material, so I figured, eh, he's just wearing it to bed, anyway. Then, the last day of school before break, they had Pajama Day. "Okay, Sam, I'm going to give you a present early, just in case you might want to use it tomorrow. But I won't be offended if you don't." Well, he did. He's pretty much been living in those pajamas ever since. He's only put on clothes when we've had to go someplace.
4. In other things I sewed, I also found some insanely soft fleece, so made some cute sweatshirts. I'd tried making a sweatshirt for my brother last year but made it too small, so this year I tried again:
I was so paranoid about making the KIDS' too small that I actually made them too big,
but they'll grow.
5. I got J an
Agents of SHIELD
(see below for more) wallet as a sort of joke, because we started playing a
SHIELD
RPG campaign and I said this way he has proper identification. He loved it way more than I expected him to.
One Present Other People Gave Other People That Is Notable
A funny thing happened to presents people bought for Jason this year: they kept getting lost in the mail. Actually, ONE of those incidents turned out to be a misunderstanding: his sister, who lives in Spain, had bought him something and shipped it here under my name, but this happened to be one of the things I'd strongly considered getting him myself, to the point that I FORGOT I hadn't actually purchased it even though I bought something ELSE to go along WITH it, so when the thing from his sister arrived I thought I'D ordered it even though it came way before everything else in the order, so I wrapped it up for Santa, and... anyway, that's where that confusion came from. My sister ordered him a few things that never showed up, as well, and printed him a copy of the order which she stuck on a pack of beer. He would have been happy with the beer. My brother had bought each of us these little figure thingies to go with our Wii U which we don't actually understand yet, but for some reason only Jason's, again, didn't show up. So my brother called and asked if I thought it would be all right if he gave Jason something he'd originally bought for himself, only to decide he didn't really want it after all. "Does he like Back to the Future?" he asked me. "Uh, yeah, but... okay, whatever you want to do, Dan." So he ended up giving J this model DeLorean. Of the time-machine variety.
And it's really detailed and awesome and kind of insane of my brother to buy only to decide he didn't want it and yet NOT send it back for a refund.
BUT it came with a card with information about the real DeLorean Motor Company, which Jason looked up, and contrary to popular belief it actually IS still in existence, and now he won't stop talking about how he wants a real DeLorean. So the substituted gift was actually WAY more appreciated than the intended gift, in the end.
Top 5 Programs I Did At The Library
Because it's my calling and junk.
1.
The Beatles Family Night!
2.
Marble run!
3.
The Spontaneous Time-Travel Program
4. Magic--
as detailed a bit toward the end of this post,
because it impressed people, had a good turnout, and everyone learned something, so yay.
5.
Rory's Story Cubes
-- that wasn't the name of the program. It was just one of the Grimm brothers' birthdays, so I decided to do a storytelling theme for Library Explorers. And we'd been kicked out of our usual room for a special event, so we didn't have much space, so I grabbed these cubes I had never before actually tried, to see what we could make of them, making up stories in a circle. And they were such a huge hit I needed to write down what they were called for all the grownups there, who wanted to buy their own sets.
Bonus:
Chocolate Covered Anything Day. There wasn't really anything all that creative about it as a program, and I didn't have any great tie-in books or stories, but WE GOT TO DIP THINGS IN CHOCOLATE, so surely this belongs among the top programs of the year, no?
Top 5 New Picture Books
My new regret in life is that I'm not a decent illustrator. Picture books are my new favorite kind of book and now I want to make them. I suppose I can still WRITE them, but my heart wants to be able to do it
all
! Anyway, here's my favorites of the stuff we got in at the library this year:
1.
Rules of Summer,
by Shaun Tan. I WANT TO LIVE IN SHAUN TAN'S BRAIN. Have I mentioned that? I probably have, because it doesn't stop being true.
Here's a nice interview about the making of this book, too.
2.
Battle Bunny,
by Jon Scieszka, Mac Barnett, and Matt Myers. Technically this came out last year but we only got it at the library THIS year. And it's just notable, because you would think it'd be a one-joke book and get old after awhile, but somehow it only got BETTER as it went, and it's
ready-made for creative spin-off activities
that really work with kids. That might have made my Best Library Programs list if MY kids hadn't been there that day to drive me nuts. ("I AM NOT YOUR MOMMY RIGHT NOW I AM THE LIBRARIAN PLEASE SIT DOWN AND BE QUIET.")
3.
Quest,
by Aaron Becker. I actually bought
Journey
for myself at my kids' book fair this year. Sure, kids, I'll buy you each a book, too, but this one's Mommy's. Anyway, I smuggled this out of the tech room as soon as it came in. I don't love it QUITE as much as
Journey
but it's still dreamy-perfect and we had fun exploring it together. I think my "Too bad I'm not an illustrator" problem is that WORDLESS picture books are REALLY my favorite thing.
4.
Flashlight,
by Lizi Boyd, speaking of which. Like on the surface this is so much simpler than, for example,
Quest
, but there's still so much going on, so much to see, so many little surprises. I JUST LOVE WORDLESS PICTURE BOOKS SO MUCH GUYS I CAN'T DEAL WITH IT.
5.
Sam and Dave Dig a Hole,
by Mac Barnett (again) and Jon Klassen. Barnett and Klassen came to speak at the Carnegie the other month, and I'm almost embarrassed to admit how long I fretted about having no one to come with me to see them, only to realize at the last minute that I HAVE KIDS IN THEIR TARGET AGE GROUP. It was great for all of us! And it was much more fun listening to the KIDS talk to them than it would have been for me to think of something halfway interesting to say. Mac Barnett enjoyed meeting someone with the same name as one of his heroes (both the BOOK'S "hero" Sam, AND the original Sam-and-Dave-the-blues-duo!)
And Maddie told Jon Klassen all about our cannibal fish! It didn't occur to me until later that this was fitting, as she WAS talking to the man who wrote
This Is Not My Hat
They were awesome. I've always had a crush on Mac Barnett, but in person I liked Jon Klassen best-- he totally seemed like a guy I could hang out with. If I was in the habit of hanging out with Caldecott Medalists.
Top 5 Older (than this year) Picture Books I Only Just Discovered Are Awesome for Reading Aloud This Year
1.
Chloe and the Lion,
by Mac Barnett DARNIT MAC BARNETT STOP BEING SO ENTERTAINING YOU'RE HOGGING THE LISTS and Adam Rex. I just really like Meta. And Mac Barnett likes meta too, which is why he keeps writing books I like. But please let's not ignore Adam Rex in this discussion because the illustrations really make the book. And that's also kind of the point of this book. They're two great tastes that taste way greater together.
2.
What Floats in a Moat?
by Lynne Berry. Some very handy blog post about Books You Might Want For a Fizz Boom Read Summer Program Storytime alerted me to this fine title, which INDEED fit with a Things That Float program I had planned. Funny and clever AND educational! Thank you, fine blog post!
3.
My Lucky Day,
by Keiko Kasza. A different blog post somewhere named this a sure-winner for read-alouds, and it happened to be in one of my outreach bags, so I said, Hey, I'll read THAT one to this group! And guess what. It IS a sure-winner.
4.
The Really Really Really Big Dinosaur,
by Richard Byrne. I mentioned this one in the above-linked all-the-programs-I-did-in-October post. I just enjoyed me and the mom and the little sister cracking up while the older sister rolled her eyes and tried not to laugh while complaining that she wanted a SERIOUS dinosaur book instead.
5. The Buzz Beaker series by Cari Meister. It looks like there's also some older titles by a Scott Nickel but I haven't read those ones so as to guarantee their quality. These are, as possibly evidenced by their having multiple authors over time, leveled readers out of one of them there book packagers in Mankato Minnesota. Which means I wasn't expecting them to be nearly as entertaining as they are. Again I stumbled upon them for summer reading programs, because they're a treasure trove for actually-fun-stuff-to-read-aloud on STEM topics!
Top 5 Longer-Than-Picture-Books Books I Read This Year, aka The Only 5 Longer-Than-Picture-Books Books I Finished Reading This Year
1.
Dangerous
, by Shannon Hale. As indicated by my movie list (see below), I love a good superhero story, but I can't get into comic books. Shannon Hale,
who is truly one of my very favorite people on the Internet btw,
decided to address this-- people who read better in paragraphs than in panels-- by actually writing a great superhero story entirely in prose. It is EVERYTHING I love about, say, watching a Marvel movie-- and even better, solid female representation!-- but in novel form!
OH I FORGOT TO MENTION-- we'll make this 1.5, though it's not much longer than a Buzz Beaker book-- Hale's
The Princess in Black,
an easy-chapter book about a princess who sneaks out to battle monsters in her spare time, because this is SO MADE for my daughter, and that's why I bought it for her for Christmas:
2.
Brown Girl Dreaming
, by Jacqueline Woodson. It's the Young People's National Book Award winner, which me being on top of things actually read before then! Mostly because Woodson's editor kept tweeting the most beautiful lines from it, so when it showed up with our Junior Library Guild subscription I said, "I've got to give this a try." It's a verse memoir, and it's LYRICAL. It IS dreaming!
3.
A Corner of White
, AND
4.
The Cracks in the Kingdom
, by Jaclyn Moriarty. Apparently pronouncing your first name like that gave you a better than average chance of getting your book read by me this year. But Jaclyn Moriarty gets special attention for being just so dang unique. She's done some crazy worldbuilding for this series (which in a dear-to-my-heart way is called The Colors of Madeleine, AWWWW) about a couple of kids who start to communicate through a crack between their two parallel worlds, and I have to say there have been several twists that I absolutely did not see coming, only to look back and find the evidence had been there all along, and I quite appreciate that. I think the next author would have appreciated that, also:
5.
Dogsbody, Diana Wynne Jones.
Only last because it's not new like the others. I did buy
The Islands of Chaldea
for the library, but I haven't gotten around to reading it, yet. It may be HER last, but I still have lots of DWJ to track down still, so that isn't what's keeping me away. More like my usual reading problems.
Top 5 Movies I Saw
1.
The LEGO Movie
: Officially my son's favorite movie, when the rest of us finally caught up (he'd gone to see it at the theater with his grandparents) we were utterly charmed, too. It really holds up to rewatching and quote-reciting. I don't know why the catchphrase this household has most adopted is "Honey, where are my paaaaaaants?" though.
2.
Captain America: The Winter Soldier
: We don't get out to the movies much, J and I-- when we do it's usually for a special occasion, like our anniversary (see below). But after seeing a certain episode of
Agents of SHIELD
(see further below) last March, we decided we needed to go see this AS SOON AS POSSIBLE just to find out what had happened. It was worth it-- I think this is my favorite of the Marvel movies now, and I do like Marvel movies (I think it was watching this that I realized I get a thrill of excitement when the comic-book opener comes on screen, like the opening notes of the
Star Wars
theme). I particularly like the themes of friendship throughout this movie, I love the friend-chemistry between all the characters-- particularly the platonic friendship between the Cap and Black Widow-- SEE? Platonic CAN BE DONE!
3.
Frozen
: I know this movie is technically from LAST year but we only just got it for Christmas. We figured we'd watch it as a family sometime this week, and I had a lot of other stuff to do Christmas morning, but my daughter insisted on putting it on, and I found myself sucked onto the couch beside her. I thought the characters were particularly great, and the themes hit on a lot of near-to-my-heart issues, so I was teary-eyed a lot.
4.
The Hobbit: The Battle of Five Armies
: We went this weekend for our anniversary, natch, and I feel like I ought to do a longer review than most of the ones in these lists. :P Far from the best of the movies, but hardly a disaster, either. Having seen all three now, I DO think it would have worked better as two movies, just with really really long Extended Editions (with basically, you know, ALL the same footage of the current Extended Editions, just two proper movies for theater viewing). This movie felt a little bit arc-less in a way that I don't think it would have if it had merely been the long climax of a movie that started when they'd first arrived at Laketown. This movie is also made up of the chapters in the book that I always manage to completely forget about, which might be saying something. Still, like any Middle-Earth movie, it's gorgeous-- though this movie seemed to involve a LOT of high and precarious walkways that were making me QUITE nervous thank you-- and, like any
Hobbit
movie in particular, it features my very favorite actor/Imaginary Husband in the title role, and do I even need to mention anymore that he was brilliant? He was brilliant. As usual. The scene when he was saying goodbye to the dwarves was my very favorite. And I was really glad he spent a lot less of this movie unconscious than he does these chapters in the book. Not that the movie couldn't have still done with more of him.
5.
Guardians of the Galaxy
: we did slip out to see this one this summer while the kids were at their grandparents' for the week. I didn't think it was as great as a lot of people seemed to think, hailing it the New
Star Wars
or whatever, but it was a lot of fun, and I appreciate a storyline that weaves a great classic rock mix tape into the plot.
Top 5 Things I Watched On TV, Or At Least Things That Were Aired On TV That I Watched On The Computer
1.
Fargo, The Series!
GAH I LOVE THIS SHOW. WHY AREN'T MORE PEOPLE TALKING ABOUT THIS SHOW? Every time I think about it, I miss it. I suppose I could watch it again, considering I bought it on iTunes. I had the DVD set on my wishlist but I guess everyone knew I bought it on iTunes and doesn't believe in the power of Bonus Features.
2.
Agents of SHIELD
, which is formally called
MARVEL'S Agents of SHIELD
, but half the time we just call it
SHIELD
anyway so nyah. Jason and I started watching this when it first came on, and even though it wasn't brilliant at first we kept watching because we both enjoyed it enough and it made for a nice little weekly Date Night, to cuddle on the couch watching "our show" each week. Then suddenly, this past spring, it got GOOD. WHOA PLOT TWISTS and WHAT'S GOING TO HAPPEN NEXT WEEK?!?! and sublimely unhinged birth-fathers and heartwrenching brain-damaged Scottish nerds level-good. This fall I've finished each Tuesday evening with the loveliest sense of satisfaction, and a bit of pity for everyone who gave up on the show before it got to be SO MUCH DANG FUN.
3. "Crumby Pictures" on
Sesame Street.
It's "Monsterpiece Theater" for a new generation, and it's brilliant, and I really wish I worked in children's television yet again.
4. I almost forgot that
Community
season 5 happened this year, but it did, way back early on. I also always forget how much I love that show until I get reminded. And there were some brilliantly funny bits this season and some perfectly touching bits too. You're a monster if you didn't cry during a certain goodbye scene with a certain absolutely perfect celebrity cameo. Oh, that got me.
5. Okay, okay,
Sherlock season 3
,
even though the fandom drives me crazy.
I can't REALLY skip mentioning it out of spite, when "The Sign of Three" was probably my favorite episode of the show ever. And still, Martin. Because he's brilliant. As usual. Which reminds me:
BONUS #5.5. When Martin Freeman hosted
Saturday Night Live
. Was he awesome? Of course he was awesome. The "Office: Middle Earth" sketch was brilliant, and did seeing him play his two most lovably adorable roles somehow wrapped up in one character make me sappy? Yes maybe. But he was brilliant even in that dumb talk show sketch where he BARELY HAD ANY LINES EVEN, his expressions just made the whole thing. To be honest, though, he wasn't even in one of my favorite sketches of the night, the commercial for going-back-to-your-home-church-for-
Christmas, which was so dead-on St. James that I had to love it. Perversely, another of my favorite things about that show was that they DID NOT MAKE A SINGLE REFERENCE TO
SHERLOCK
OR BUMBLEPANTS CUCUMBERSAUCE. I'm just a little sensitive. Hey, while we're at it:
Top Five Pics of Martin Freeman That The Internet Kindly Gave Me
1. Okay, this isn't the greatest picture of Martin specifically, but it's such an insanely mindblowing circumstance that it has to be #1:
WHO PUT THOSE TWO MEN ON THE SAME COUCH? HOW IS THAT METAPHYSICALLY POSSIBLE? HOW DID THE AWESOME NOT EXPLODE THE WORLD?
2. From that same talk show, here's Martin doing a Paul McCartney impression.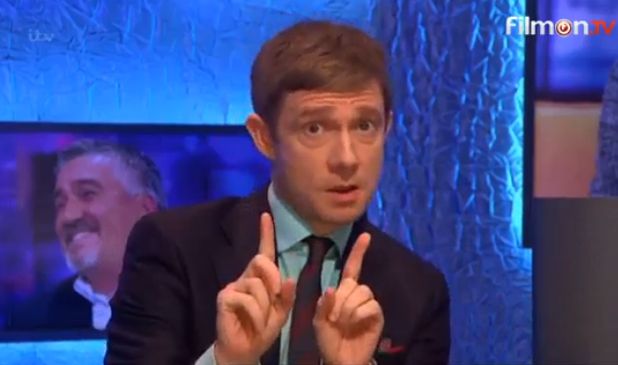 But he can't fool me. I've long suspected he's been doing an extended Paul McCartney impression for most of his life. I'M ONTO YOU, FELLOW MACCA GEEK.
3. Try not to swoon:
4. I love Martin being Martin, but there were lots of lovely in-character pics this year as well. I'm torn between the "Bilbo does Not Approve" shot: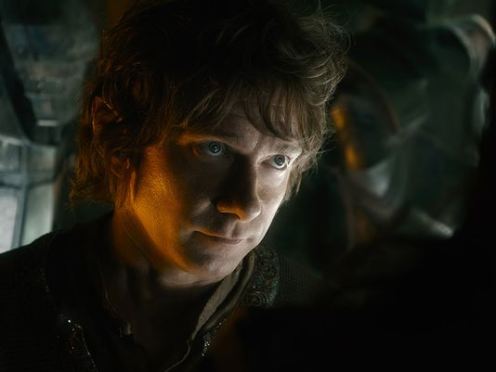 5. ...and the "Lester is a Conniving Weasel" shot: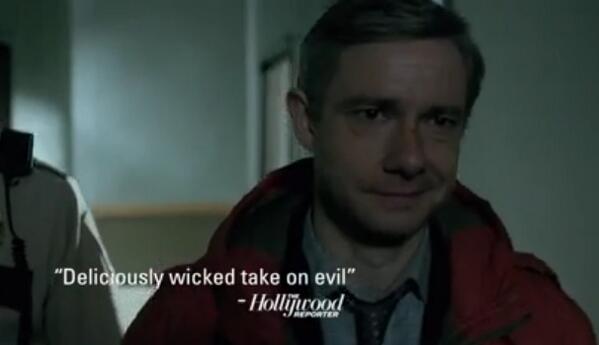 PLUS! One moving .gif to make your life happy:
Okay, what's left.
Top 5... Music? Um, maybe not a Top 5?
1. I SAW PAUL MCCARTNEY... I may have already mentioned that.
2. Honestly, I have no clue.
3. OH, this year DOES mark the discovery of the
[Sarah's] Husband's Stupid Record Collection
blog, which has continued to be fun. Also, Sarah-of-said-blog followed me back on Tumblr and sometimes she even Favorites stuff I reblog there, which makes me feel marginally famous.
4. I wish I was still a music geek who actually was on top of musical discoveries.
5. Well, I do find myself exposed to Hit Pop Songs nonetheless, and actually there were several Hit Pop Songs this year that I ACTUALLY LIKE. I'm quite fond of "All About the Bass" and "Shake it Off." There were many more Hit Pop Songs that I DIDN'T care for (and why the heck do Maroon 5 suck so much now? They were so GOOD ten years ago!), but this isn't really news. I think I spend more time listening to PBS Kids songs than I do the radio, anyway.
Top 5 Songs From PBS Kids Shows I Sing Along To Incessantly

1.
The Dinosaur Train Theme Song
2. The "Splashing In the Bathtub" song on
Peg+Cat
3.
The Peg+Cat Theme Song
4.
The "Problem Solved" song from Peg+Cat.
I really like
Peg+Cat
songs
5. Anything from
Daniel Tiger's Neighborhood,
which is sort of cheating because they were mostly all originally from Mister Rogers, anyway.
Anyway.
Let's wrap things up with a little bloggy retrospective.
Finally, Top 5 Blog Posts I Didn't Already Link To In This Post, Which Mostly Leaves The Philosophical Ones
1.
In which I finally understand what it means to examine ones privilege
2.
A tribute to an influential teacher
3.
In which I examine the darkest depths of my soul
4.
Humanity's only hope is to stop trying to change the subject
5.
EVERYTHING IS REAL!
And bonus:
I wrote a poem once.
So... have a lovely new year! We have no plans because we're boring. How about you? What were your Top Whatevers of the year?